Kathrine Virginia "Kathy" Switzer is an American author, television commentator and marathon runner. In 1967, she became the first woman to run the Boston Marathon as a numbered entry.
During her run, race official Jock Semple attempted to stop Switzer and grab her official bib; however, he was shoved to the ground by Switzer's boyfriend, who was running with her, and she completed the race. It was not until 1972 that women were allowed to run the Boston Marathon officially.
Personal life
In 1968, Switzer married Tom Miller, the man who had blocked officials for her while running the Boston Marathon in 1967. They divorced in 1973, and she then married and divorced public relations executive Philip Schaub and later married British-born runner and author Roger Robinson, in 1987
55 years ago, a runners officially entered as K.V. Switzer 1967 in the Boston Marathon. On Monday, she did it again at age 70.
Kathrine Switzer's marathon in 1967 became historic because she was the first woman to complete the all-male race as an official entrant — her registration as "K.V. Switzer" hid her gender. The race resonated far beyond a footnote in the record books when an official tried to force her from the course after a few miles.
Tuesday afternoon Arnie picked up John, Tom, and me, and by 3 o'clock we hit the road for the five-hour drive to Boston. We found a motel in Natick, and after dinner Arnie insisted on showing us the course even though it was nearly 10 p.m. and freezing cold and rainy outside. He was excited at every land¬mark, saying things like "Here's Wellesley College!" when we couldn't see a thing out the steamy windows. The drive seemed an eternity, and I had this impending feeling of doom—here we were driving at 40 miles an hour and it was taking forever. Ever since that night I've never driven over a marathon course before the event. It is totally demoralizing to see how far 26 miles actually is.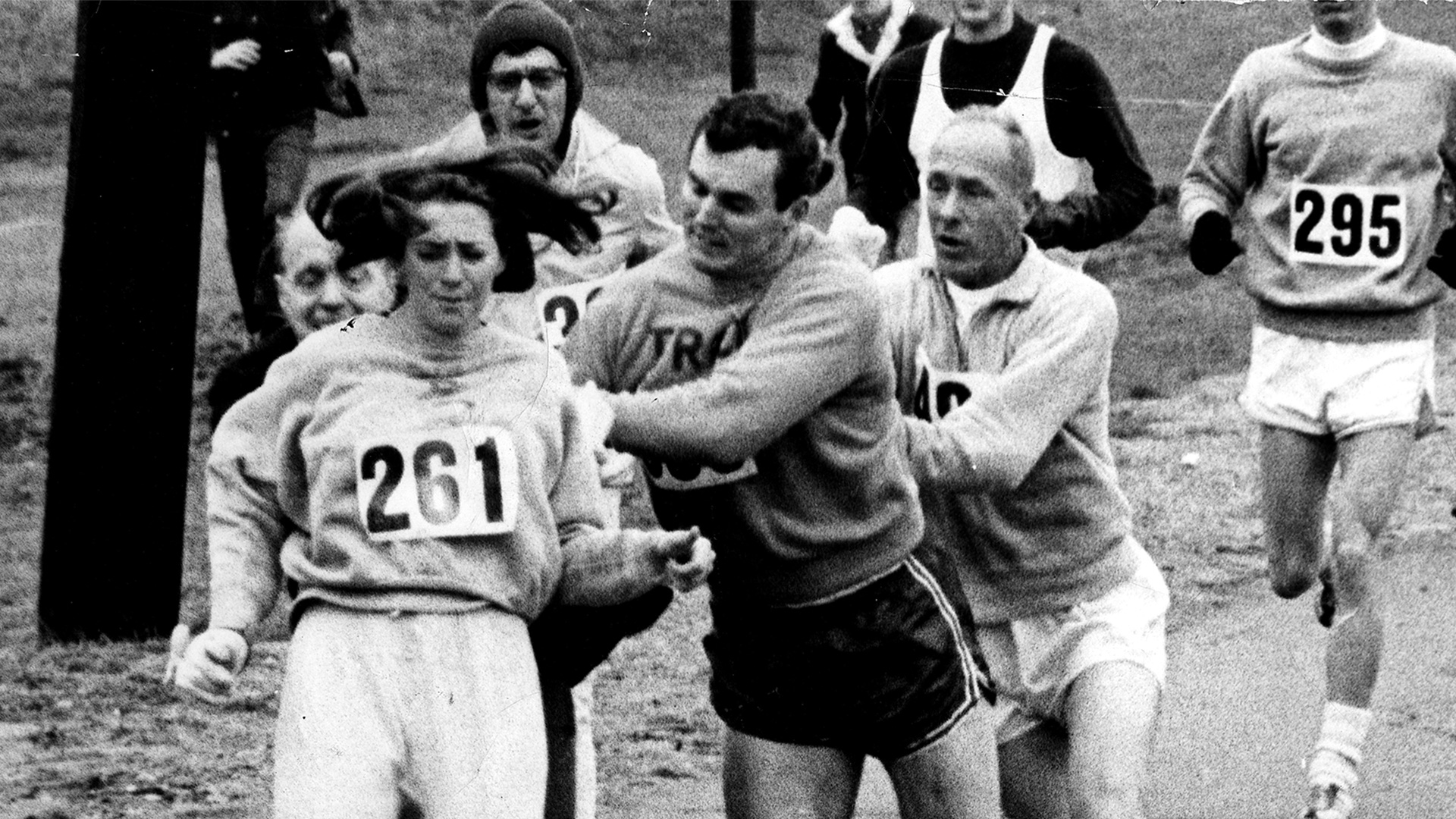 She has said she hopes to run New York this year as well.
Of her legacy as a pioneer, she wrote in The Times: "We learned that women are not deficient in endurance and stamina, and that running requires no fancy facilities or equipment. Women's marathoning has created a global legacy."
Since 1967, Switzer's become a champion for female runners, forming 261 Fearless, a nonprofit running club across the country.
Regardless of when Switzer crosses the finish line today, there's no denying she's already won in our eyes, a million times over.